Have you ever traveled to a country and wondered…how can I have a great visit while also helping those in the area? Now – you can do just that as we're excited to offer eco travel adventures, in a pristine location, all while helping a community care for its own.
Guayabo Animal Rescue has a 360-degree view of the surrounding hills and volcano, screened-in patio with a grill and other amenities, hiking, ATV, horseback riding and trails, birdwatching, orchard exploring (yes –while visiting pick a Ruby Red grapefruit for breakfast or honey from our beehives), and the best part….you can help care for our rescued horses, goats, and dogs. Help feed, brush, and nurture these loving animals, all who come to us due to abandonment, abuse, or no one else is able care for them.
OH and if you fall in love with one of our dogs, you never know, depending on who it is…you may be able to adopt. We can help you navigate the process to take a dog out of the country if that's best for the dog and you! Seen here, our executive director came for a visit and left with a sweet dog they call – Tica from Costa Rica.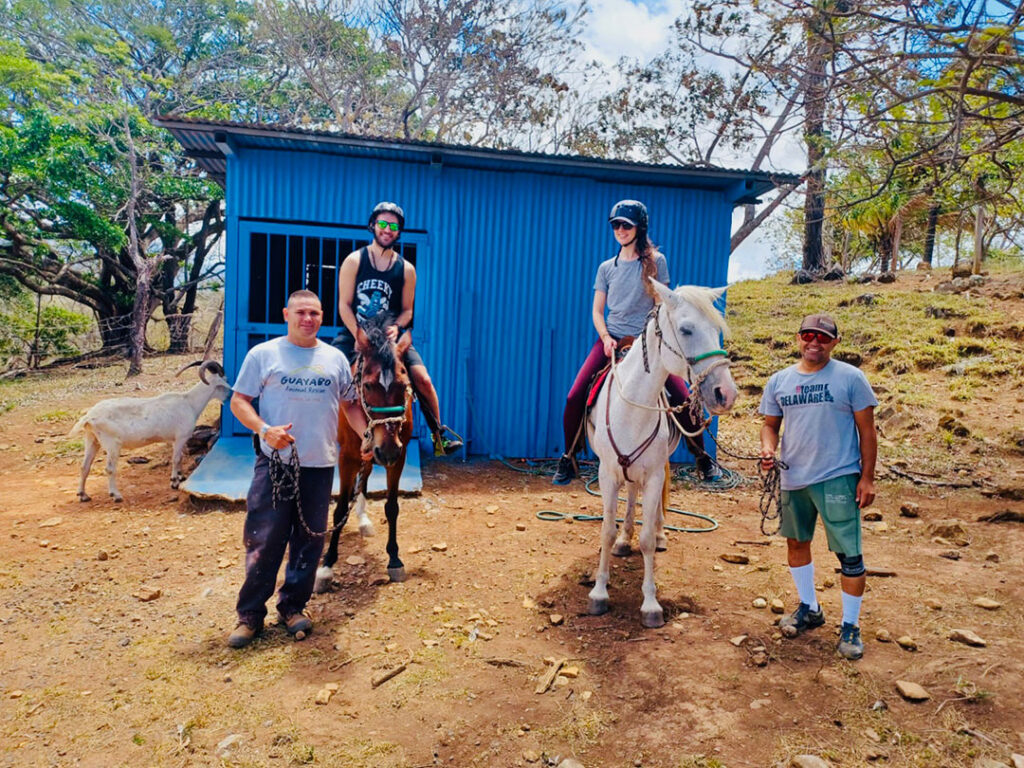 Horseback Riding Tours
Tour 45 minutes = $25 / ₡14000 (per person)
Tour 1 hour = $35 / ₡20000 (per person)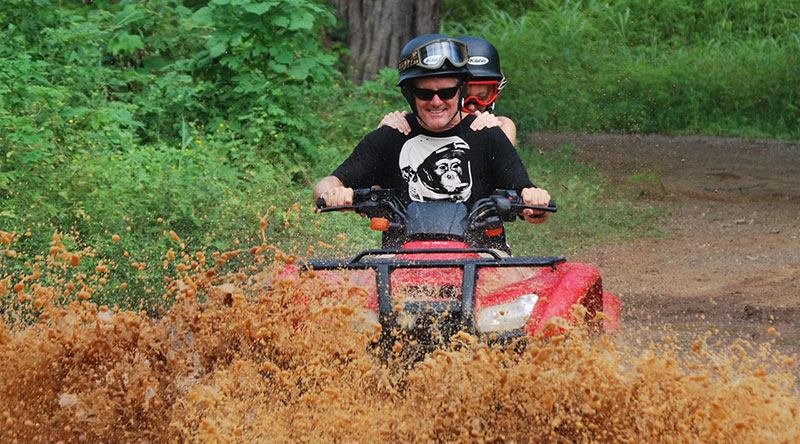 ATV Tours
Tour 1 hour = $40 / ₡28000 (per person)
If a companion rides on the same ATV same price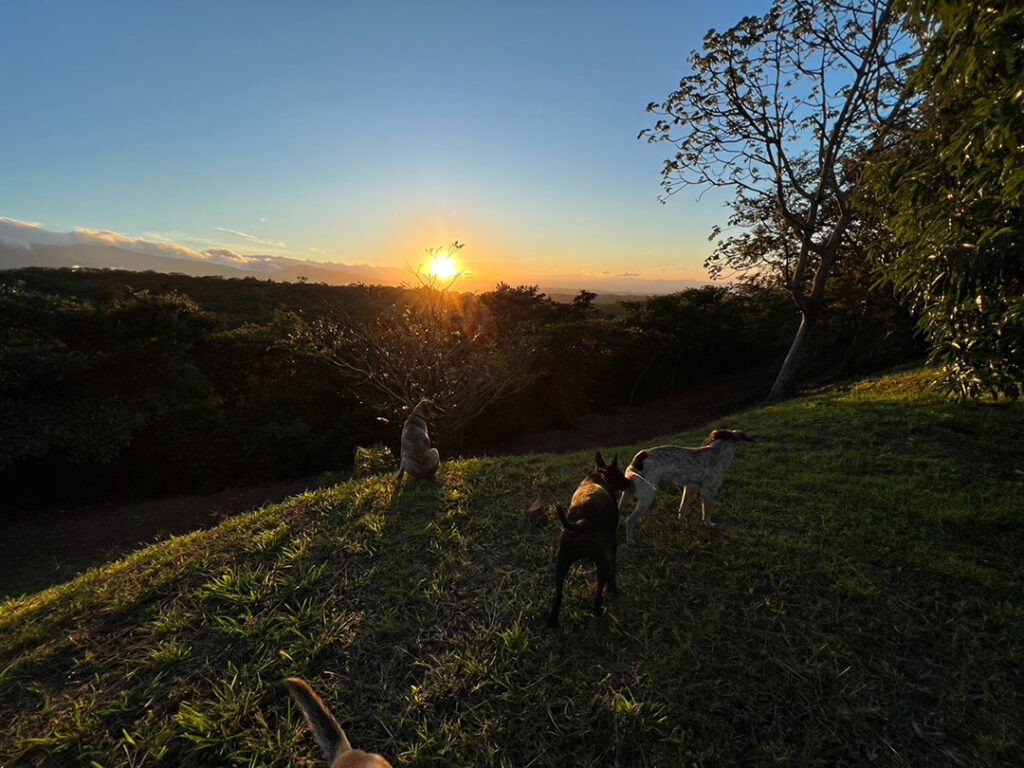 Day Tours (excluding horseback riding/ATV and priced per group)
1-hour property tour = $30 / ₡16500 (per group)
2-hour property tour = $60 / ₡33000 (per group)
All tours include a guide and additional riding times are available – appropriate rates will apply. Time spent with the animals to feed, give a bath, play, etc. is part of the day tours.
Note: Villa guests have unlimited access to the animals and walking tours while staying on the property.
Extra Group Outing Offerings
Surf, Sun, Sand Getaway
Our team will transport up to four guests to a beautiful beach for a day of fun
Your choice of surf or calm water beach
Rain Forest Waterfall Hike & Colones del Miravalles Hot Springs
We will take you to Tenorio State Park to see waterfall Rio Celeste (park fees not included)
We can also stop for a late lunch (not included) at a local favorite which includes swimming in hot springs
Hike Volcan Miravalles with added Horseback Riding
This elevated hike is sure to get the blood pumping and ends with spectacular aerial 360 views
Start early and take in the amazing sights, added horseback riding if desired
Ponderosa Adventure Park
This diverse park has something for everyone – animals, zip line, waterfalls, etc.
Half day and full day tours available (park fees not included)
Villa 2
4 guests | 2 bedrooms | 3 beds | 2 baths
Villa 3
4 guests | 2 bedrooms | 3 beds | 2 baths
Villas
8 guests | 4 bedrooms | 6 beds | 4.5 baths
Daily temperatures at Guayabo Animal Rescue range between 70-80°F or 21-26°C — perfect weather for shorts and flip-flops. Occasionally in the afternoon, there might be a 30-minute rain shower — that often produce beautiful rainbows. In January thru March, the trade winds can be between 32 and 74 km/hr. As they do visit the foothills of Miravalles providing a refreshing breeze. April tru June is spring and the weather is dryer and winds have died down. July thru October is our rainy season and you'll likely see a daily shower. October thru December is summer, with little-to-no winds.